STEP LOGIC Builds a Multimedia Complex in the Inter-Skyscraper Space of Sberbank City
21 December 2021
STEP LOGIC has completed the construction of a multimedia complex situated between the skyscrapers of the Sberbank City business cluster on Kutuzovsky Prospekt.

The space where the complex is located connects the entrances of the two office buildings that serve as a place of work for more than 10,000 people. The space includes vestibules, entrances, lift, staircase and escalator lobbies, a reception area, shops and cafés, conference rooms, a restaurant and a recreation area.

The premises were equipped with state-of-the-art multimedia systems to help organise the individual work and teamwork of employees and partners, inform visitors about existing offers and services, broadcast corporate content and achieve acoustic comfort.

Areas with the highest footfall are equipped with LED screens that are integrated with the bank's unified content distribution system and seamlessly blend with the design of the complex's interiors.

The central LED screen has a set of sensors that support multiple gesture-based content control modes. The sensors respond both to ambiguous hand movements – for instance, putting your palm close to a screen that shows a water stream will make the image flow around it – and to precise gestures necessary for business presentations, such as clicking links, opening documents and zooming in or out of content.



The interactive LED screen

The area in front of the interactive LED screen can also be used for presentations with multiple speakers. The screen allows outputting information from multiple devices at the same time. The received content can then be displayed in windows of any size that are connected by a single background image. To ensure even sound distribution, the space is fitted with an audio amplification system.

For large meetings, video conferences and seminars, the complex has a modular room with 80 seats. When necessary, it can be transformed into several rooms separated from each other by soundproof partitions. Each module comes with an LED screen and rolling stand-mounted displays that can be used as auxiliary visual display equipment.

The room's multimedia systems can be reconfigured for different work scenarios. The equipment allows switching between different modes from the touch panel using pre-defined templates.

To enable users to broadcast content in real time and shoot footage for TV, the room is equipped with professional high-resolution cameras controlled from a camera console.

The room is fitted with ceiling-mounted microphone arrays, making personal microphones unnecessary.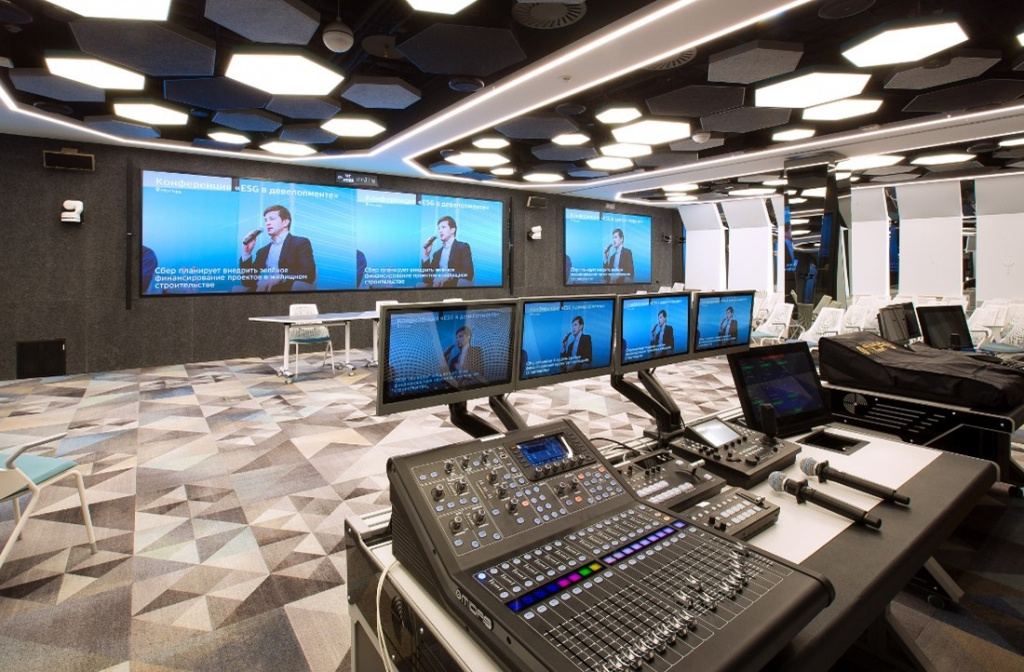 The modular room with a capacity of 80 people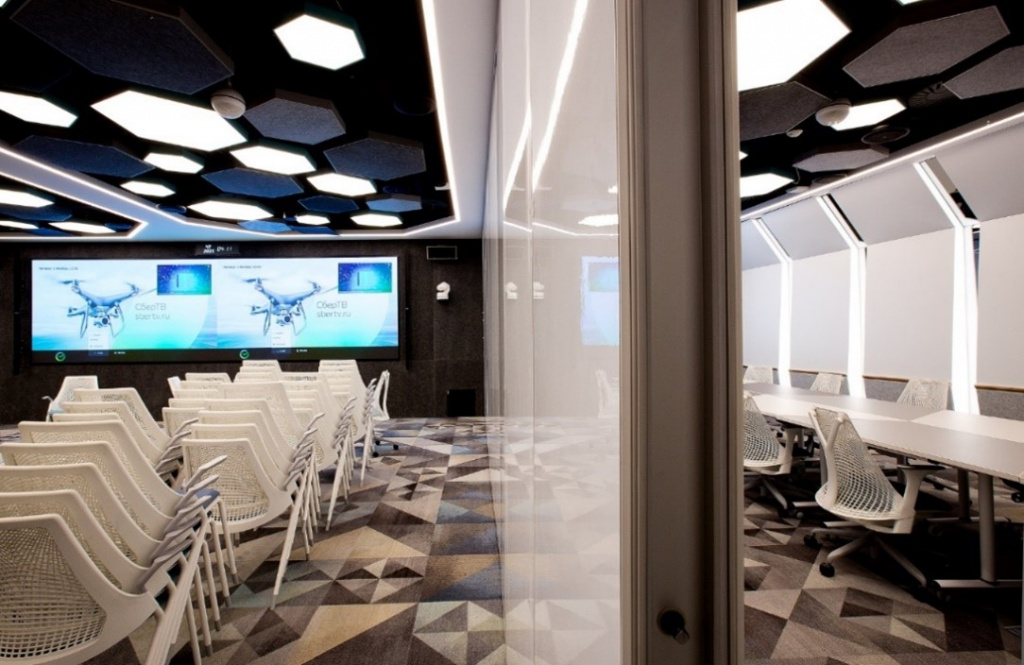 The modular room transformed into a conference room for 14 people and a briefing room for 65 people

Designed for informal meetings, lectures, speeches and presentations, the amphitheatre area is equipped with moveable displays, a sound amplification system and high-fidelity wireless microphones. Due to variations in the height of its ceiling, the amphitheatre area uses both ceiling-mounted and pendant speakers.



The amphitheatre area

The amphitheatre area offers professional filming equipment for live broadcasting and recording of the events and enables organisers to document and livestream presentations.

The multimedia complex of the modular room and the amphitheatre is integrated with a centralised simultaneous interpretation system, making it possible to hold events with international speakers and participants.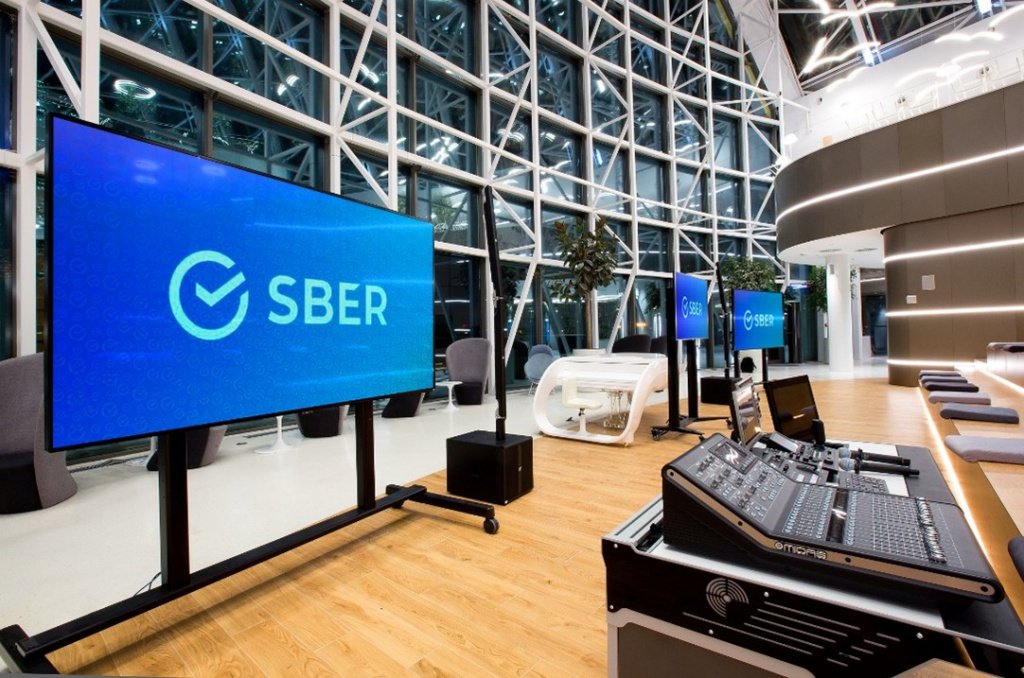 The amphitheatre area

A multi-zone audio system allows playing content, adjusting sound levels and making announcements from a reception desk in each individual zone or in all rooms of the complex at once.

The complex has conference rooms designed for holding meetings and videoconferences for up to 10 people. The rooms are equipped with videoconferencing systems with tracking cameras, microphones with low sensitivity to mobile phone interference, visual display equipment, soundbars and switching devices.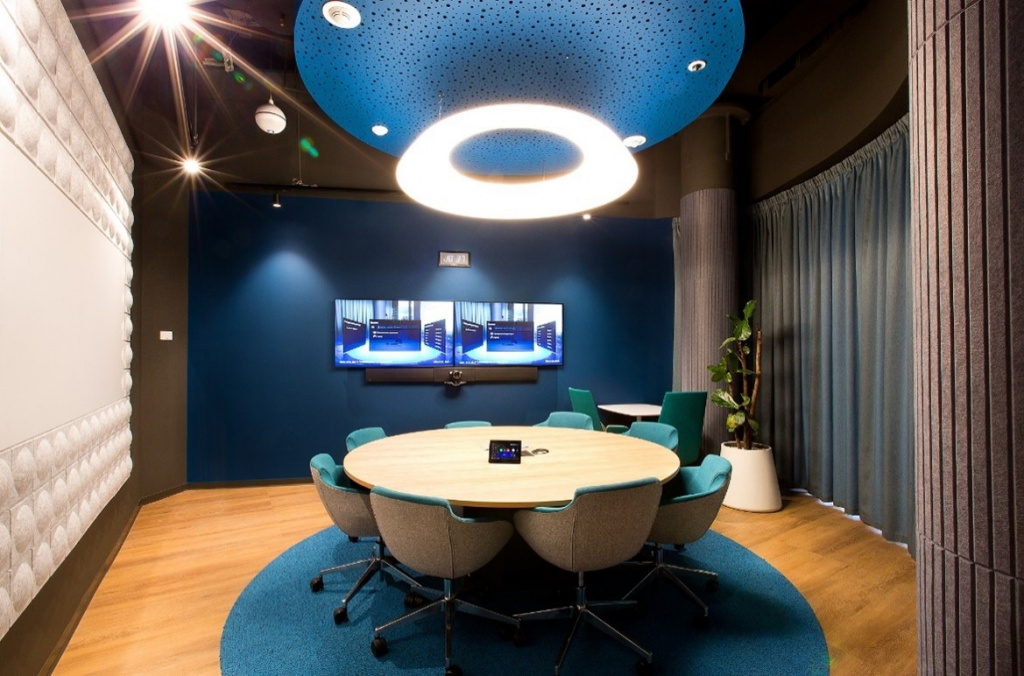 A conference room for 8 people

The tables are fitted with pop up modules with the most common types of ports for connecting external devices. In addition to wired connection, the conference rooms also support wireless connection and transmission of content to video displays.



A conference room for 6 people

The multimedia systems are controlled from a touch panel. It can be used to switch devices on and off, control the videoconferencing equipment, select presentation sources and adjust volume levels.

Each conference room has an E-Ink screen outside that is integrated with a unified reservation system. The panels do not require a LAN connection or power supply (battery life of up to 2 years), meaning that it can be mounted on any surface, including glass. If a meeting is cancelled or ends early, a presence detector will automatically update the room availability status.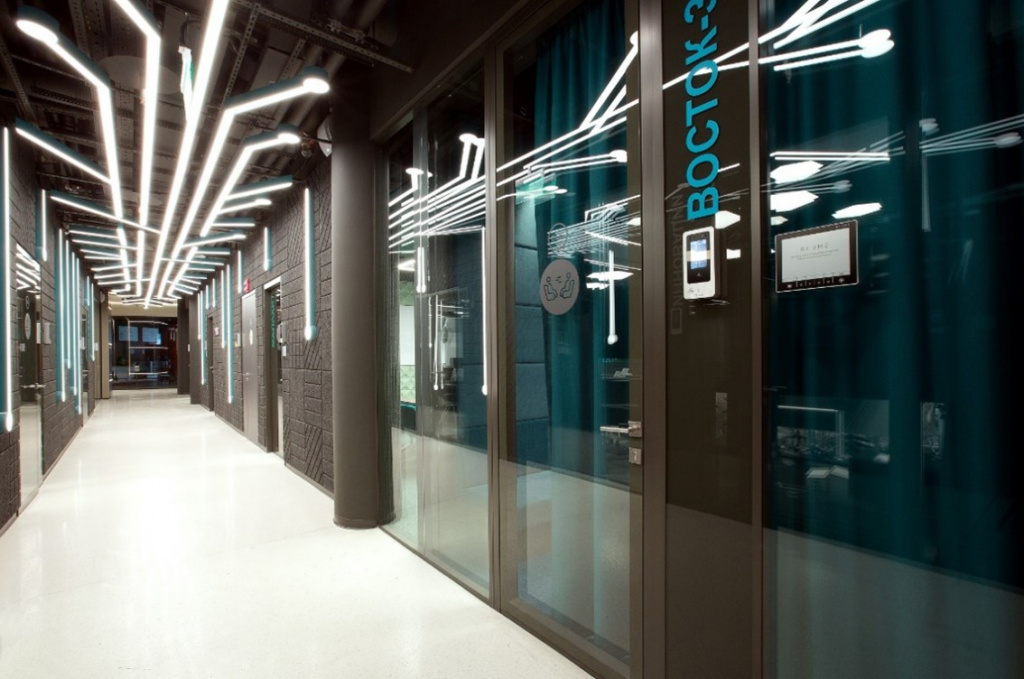 A touch panel for booking a conference room


About STEP LOGIC

STEP LOGIC (eng.step.ru) has been offering network and systems integration services in the Russian market for 29 years. The company has more than 600 employees at its offices located in Moscow, Kazan, Yerevan and Almaty. STEP LOGIC employs over 350 engineers and system architects certified by leading international producers, including APC by Schneider Electric, Avaya, Check Point, Cisco Systems, Crestron, Dell Technologies, Extron, Fortinet, HPE, Huawei, IBM, Juniper Networks, Lenovo, Microsoft, Polycom and Unify, among others. The range of solutions and services includes network and systems integration, audio and visual solutions, development of videoconferencing systems and contact centres, complex security, data processing and storage services, network and engineering infrastructure development for buildings, the Internet of Things, as well as a full range of services for technical support and maintenance of information systems, including IT consulting, auditing and outsourcing.
Back to all news