Creating a single shared information environment for the first World Winter Universiade in Russia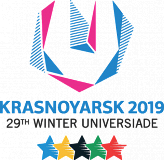 Problem
In 2019, the 29th Winter Universiade was held in Krasnoyarsk. It was recognised as one of the best in the history of the World University Games. Hosting events of this kind is shapes the international reputation of the host country.
Creating a single shared information environment is the key factor defining organisational process. STEP LOGIC with its tremendous experience in building ICT infrastructures for international sports events was among the contractors.
STEP LOGIC's Objective
Developing a systems project for the ICT infrastructure across all the sports and administrative facilities for international competitions, including hotels, hospitals and the airport.

Deploying and supporting a reliable, secure, and high-performance network infrastructure.

Modernisation of the main and backup data processing centres.
Features
Over 40 facilities, including 8 high-complexity facilities. These are ice arenas, stadiums and geographically dispersed sport clusters with a capacity of 3,000 to 15,000 people.

Designing backbone network, wired and wireless data networks, information security system, primary and backup data centres, access control system, video surveillance, telephone communications, etc. The project was implemented in just two months, which is a record short time.

Network port capacity – over 7,000 devices.

The total of 1490 wireless access points.

Awards from the Ministry of Digital Development, Communications and Mass Media of the Russian Federation for active participation in the Preparation and Holding of the XXIX Winter Universiade 2019 in Krasnoyarsk project.