STEP LOGIC Receives a Hikvision Award for the First Joint Project Introducing Video Analytics in Retail
14 March 2018
Moscow. February 2018. STEP LOGIC received an award and the official VASP Partner (Value Added Solution Partner) status from Hikvision at the VASP conference in early February 2018, which brought together the major partners in the security market from all over Russia.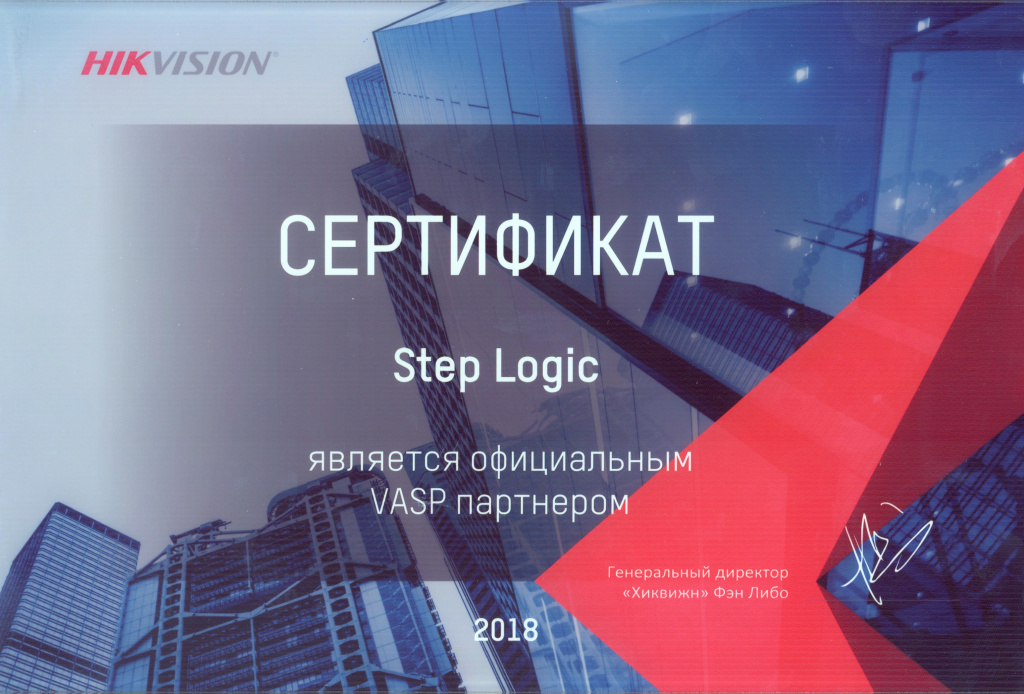 An audio and video monitoring system was deployed for the Fashion Continent clothing retail chain. FASHION CONTINENT (Fashion Continent JSC) is a fast growing company that since its foundation in 2003 has built one of the largest national chains of stores selling fashionable women's and children's clothes, underwear and accessories in Russia, INCITY, which at the moment consists of over 330 retail outlets in more than 140 cities across Russia and Kazakhstan. Every day some 3,000 dedicated professionals turn up for work at INCITY, they're all passionate about fashion and the company's mission, which is to make fashion accessible.
As the chain kept growing fast, including in the region, it was soon realised that a solution was needed to give the head office and regional management alike an easy way to track the main business processes at the retail outlets to give them control over:

How goods are shelved in the stores;
Communication between store staff and customers;
The utility rooms, including when delivery of new merchandise is being taken;
Store security:

online montoring of the stores by the security service,
ensuring the security services performs its obligations in retail areas,
conflict resolution;

The overall situation in the stores:

cleanliness,
background music,
making sure sales staff and other personnel abide by company regulations;
The solution for INCITY was developed on the basis of the Head Point™ situational monitoring system, which offers:
A comprehensive platform that allows for the interaction of various sources of photo and video images, information systems and security systems by integrating them into a single information management environment.

A geographically distributed but centrally controlled system by using the same mechanisms for managing all the monitored assets, CCTV equipment, users and their access to the various functions of the system.

Real-time processing: the system can process information and present it to users in real time in a format that allows users to promptly respond to the evolving situation.

Modularity and functional adaptivity: the system is comprised of modules each of which is responsible for a specific set of tasks, which means the functionality of the system can be expanded without having to change the overall architecture or logic of the system.

Scalability and replicability: the number of users, the amount of CCTV cameras and the amount of information being processed can be increased without having to change the architecture or logic of the system by simply adding more hardware resources to it.
In addition, the system can convert the audio and video it records into a variety of formats at user requests, facilitating subsequent analysis and long-term storage on allocated file resources.
The solution integrates over 400 PoE video cameras manufactured by Hikvision and equipped with microphones for quality audio and video monitoring. The Hikvision video recorders in the stores ensure long-term storage of video and audio archives.
"This project is strategically important for us because it is the first time we've deployed a video analytics solution in retail in cooperation with Hikvision. We are confident that the existing demand for these kinds of solutions and the effectiveness of our offering will allow us to deploy it in other big retail chains," noted Dmitry Yakushev, Chief Commercial Officer STEP LOGIC.
---
About Hikvision.

Hikvision is a leading global supplier of innovative products and solutions for video surveillance.
For two years in a row Hikvision has topped the Top Security 50 rating, which is published annually by A&S magazine and includes leading security companies. Thanks to a strong team of developers and continuous introduction of new technologies the company has remained a leader in the market of CCTV and security systems for several years now. Hikvision's product line includes digital, network and hybrid video recorders, video servers, video capture boards, high definition IP cameras and high-speed rotating dome cameras. Hikvision promotes key video and audio encoding technologies, video processing and data storage technologies as well as such cutting edge technologies as cloud computing, big data and deep learning. In addition to the CCTV market Hikvision also offers smart home, industrial automation and robotics solutions as per its long-term business development strategy.
About HeadPoint.
HeadPoint develops software and offers comprehensive solutions for geographically distributed CCTV systems, security systems and monitoring systems based on the company's own modular platform. HeadPoint technicians not only deploy comprehensive solutions but also offer comprehensive support during the deployment and operation of their systems. The HeadPoint situational monitoring system has been included in the Unified Registry of Russian Computer Programmes and Databases.

Back to all news