STEP LOGIC has become the Best Partner of Dimension Data following the results of 2017
21 February 2018
Moscow, January 2018. STEP LOGIC was chosen the partner of the year among all European partners of Dimension Data and was awarded the Preferred Partner of the Year 2017.

Following the results of 2017, European Dimension Data office recognised STEP LOGIC as the best partner of the company in the region. The selection criteria were an increase in the number of joint projects and an innovative approach to implementing solutions, as well as revenue growth and the emergence of new sales formats. The high appreciation of the company's work once again confirms the positive trends in the cooperation between STEP LOGIC and Dimension Data.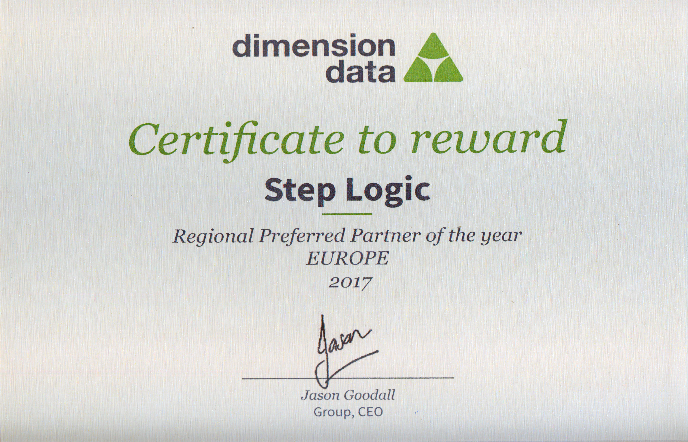 The strategic alliance between the companies has existed for more than 10 years, during these years STEP LOGIC supported the implementation of the business tasks of such well-known companies as Oracle, Avon, Cargill, Sanofi, MoneyGram, Boeing, etc. During these years, STEP LOGIC was repeatedly awarded by the global partner, and STEP LOGIC was recognised the best Dimension Data partner in the world in 2016.
---
About Dimension Data.
Providing info-communications services and solutions Dimension Data plc, founded in 1983, uses its technological experience, the ability to provide services anywhere in the world and its inherent entrepreneurial spirit to inspire business ambitions of its customers. Dimension Data is a member of NTT Group. More than 31 thousand highly professional employees work in branch offices of Dimension Data located at 58 countries. Dimension Data is the official technology partner of Amaury Sport Organisation (organiser of Tour de France) and is the official partner of the Dimension Data professional road cycling team (Quebec).

Back to all news