Key digitalisation trends for business and urban environment discussed in Kalmykia
07 July 2021
Key topics of the «Digital Kalmykia: Information Technology Helping Business and the State» conference included making cities more comfortable, digitalising labour protection at enterprises, optimising the education process and ensuring information security for businesses.

«The Digital Kalmykia: Information Technology Helping Business and the State» conference held in Elista brought local authorities and businesses together. Kalmykia's First Deputy Prime Minister and Minister of Finance Ochir Shurgucheev and the republic's Digital Development Minister Alexei Eteev gave opening speeches and pointed out that every region will soon have its own digital transformation strategy. «Digital economy has a massive influence on all areas of public life and its importance is defined at the state level. Just like the rest of Russia, Kalmykia is working on the Digital Transformation Strategy for priority sectors of the economy and the social sector, including healthcare, education, housing and communal services. It is important that we focus on improving Kalmykia's digital infrastructure quality and ensuring the comfort and security of the republic's citizens. One of our top priorities is training competent users and IT specialists whose digital education has to start at school», Alexei Eteev said.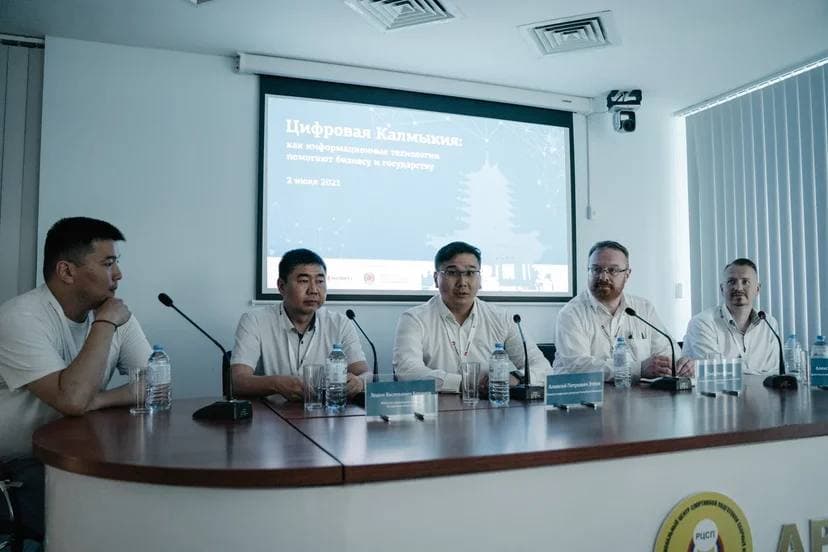 After the opening speech, conference tech partners Huawei and STEP LOGIC talked about digitalisation solutions for urban spaces and manufacturing facilities.
STEP LOGIC's leading expert on innovative solutions
Oleg Ovsyankin
spoke about the application of VR for improving the effectiveness of personnel training, infrastructure planning and using equipment at production, commercial and mining facilities. According to the speaker, businesses mainly use virtual reality technologies for planning and personnel training, which makes up for 28% of all public VR case studies over the past year. However, VR can also be used for other purposes, for example, creating virtual tours of Russian cities which could help promote new destinations and attract tourists into the country. After the presentation, the attendees got to see a test version of a virtual tour of the historical part of Elista.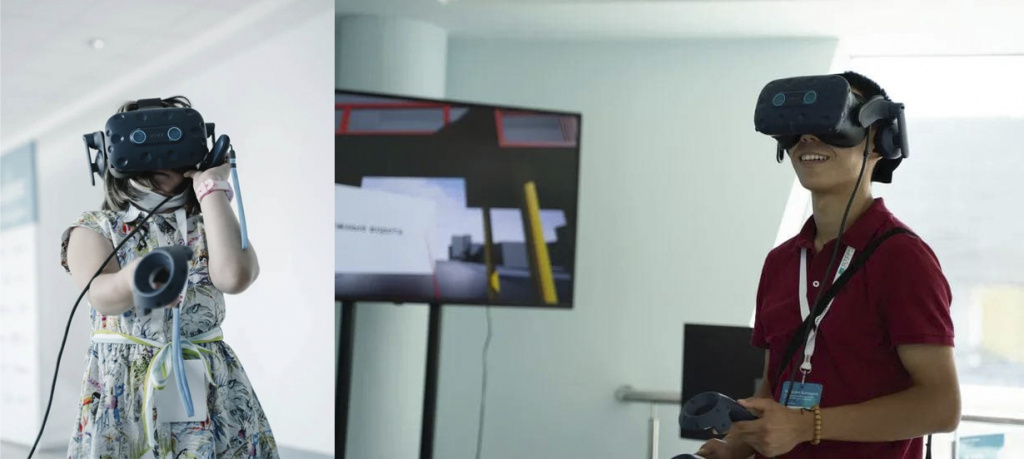 Huawei Enterprise Digital Transformation Director in the Eurasia region Alexander Krinitsin spoke about the «smart campus» and «smart school» solutions aimed at making cities more comfortable, improving the security of public spaces, optimising the education process and providing a safe and comfortable environment for teachers and pupils through managing the school building and premises. The «digital classroom» solution, also presented at the conference, involves an interactive whiteboard and a tablet that allows absent pupils to attend the lesson remotely and gives teachers the opportunity to conduct a lesson from home and keep control over the audience. «The development of technology makes traditional classrooms insufficient for the requirements of the modern education process. Having different lessons in the same classroom, the lack of analysis of the education format and the absence of effective and intuitive teaching control and management methods – these are just a few problems that highlight the need to improve the effectiveness of the education process», the speaker said.

Kalmykia's Minister of Education and Science Erdni Barinov supported this idea and spoke about the development of a unified education information system in the republic. The system is set to unite data on pupils' grades and teachers' work and have the option of conducting online competency tests.




The automation of information security processes was another topic for discussion. According to Pavel Kornilov, head of the Information Security Monitoring and Automation Systems Department at STEP LOGIC, automation of routine processes (at the very least), as well as receipt and transformation of information in automatic mode are vital issues in the modern world and particularly when it comes to information security with its massive flows of information. Kornilov shared several ways to use an SGRC system that takes care of strategic management processes and most functional processes (e.g. asset management, vulnerability management, documentation, incident response).


About Huawei

Huawei is one of the world's leading providers of smart devices and intelligent solutions for building ICT infrastructure and providing cloud services. Huawei's mission is to bring digital to every person, home and organisation for a fully connected, intelligent world. Products, solutions and services from Huawei's comprehensive portfolio are highly reliable and competitive. Through open collaboration with its ecosystem partners, Huawei creates commercial potential for its customers and expands their business opportunities. The company allocates a significant portion of its investments to basic research. Huawei has over 197 thousand employees in over 170 countries. Founded in 1987, Huawei is a private company wholly owned by its employees. For more information, visit https://e.huawei.com/
About STEP LOGIC

STEP LOGIC (eng.step.ru) has been offering network and systems integration services in the Russian market for 28 years. The company has more than 600 employees at its offices located in Moscow, Kazan, Yerevan and Almaty. STEP LOGIC employs over 350 engineers and system architects certified by leading international producers. The company has received high-level authorisation from vendors such as APC by Schneider Electric, Avaya, Check Point, Cisco Systems, Crestron, Dell Technologies, Extron, Fortinet, HPE, Huawei, IBM, Juniper Networks, Lenovo, Microsoft, Polycom, Unify and others. The range of solutions and services includes network and systems integration, audio and visual solutions, development of videoconferencing systems and contact centres, complex security, data processing and storage services, network and engineering infrastructure development for buildings, the Internet of Things, as well as a full range of services for technical support and maintenance of information systems, including IT consulting, auditing and outsourcing.
Back to all news