STEP LOGIC has created a media space in the Sberbank headquarters
19 November 2020
STEP LOGIC has created a media space in the Sberbank headquarters

Russia's first installation of OLED panels with a small folding radius and a multifunctional hall for 600 persons have been constructed at the office on Kutuzovsky Avenue.
STEP LOGIC has completed the works on media systems in the Sberbank headquarters on Kutuzovsky Avenue, the 10-storey building with a total area of 62,000 square metres in the Sberbank City business complex.
A multifunctional hall for major events accommodating 600 spectators has been fitted up.
The project included 14 systems merged into a single complex involving products by 70 leading manufacturers. The hall has been equipped with systems for sound reinforcement, mixing and processing signals, multilingual video conferencing, simultaneous interpretation, TV filming, switching and processing visual signals, lighting design, mechanisation, audio transmission in auditoria and adjacent areas, digital technological communication, technological monitoring and complex management.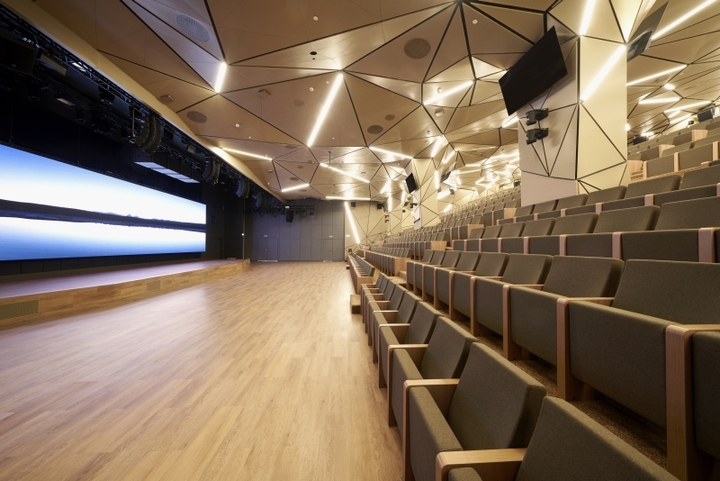 Photos by Sergey Melnikov

The multichannel sound reinforcement system supports controlling each sound source separately and changing its spatial location both in real-time and based on pre-arranged scripts.
Compact line arrays, point-source loudspeakers and advanced processing and reinforcement algorithms ensure uniform sound pressure level distribution and high intelligibility.
The TV filming set is designed for live broadcasting, recording TV programmes, editing and preparing for live broadcasts for both streaming services and network television. Optical medium transmission technology allows reliable communication and long-range signal transmission with minimum delays and no loss in quality.
One of the project's highlights is a lighting system creating luminous effects for events of various formats. The solution is based on remote-control units providing directional coloured floodlight for the stage and a part of the stalls.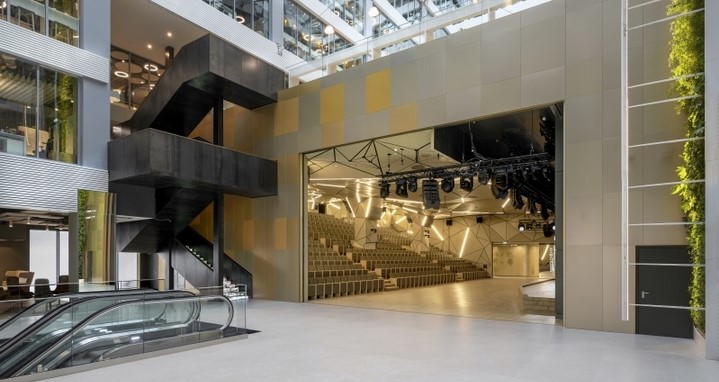 Photos by Sergey Melnikov
Apart from arranging the concert hall, STEP LOGIC has also decorated the headquarters' entrance space with a media installation.
The building's interiors are performed according to the original design solution prepared by the Evolution Design architect bureau in partnership with T+T Architects.
In the lobby, a 360-degree composition of flexible OLEDs with a small folding radius. The installation is a first solution involving OLED displays in Russia. The entrance space has been equipped with four media towers comprised of 56 OLED panels. Under the escalator, the "wave" installation of 20 panels has been placed. The aggregate resolution of the project is 150,000,000 pixels. To ensure the display overheating protection, the optimal installation design was selected from 11 options using a CFD-modelling solution.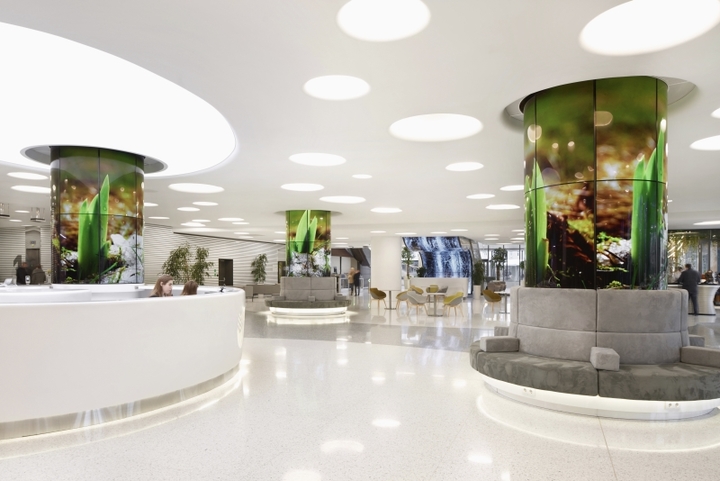 Photos by Sergey Melnikov

«The project commissioned by the company associated with the hi-tech sphere demands expertise and mastery. It is our duty to ensure the sustained superior performance of the mounted system, – said Sergey Lyushnin, Director of the Standardized Communication and Contact Centres Department of STEP LOGIC. – Working on media systems for concert halls, we took into consideration that the edges of a space may change using folding panels for hosting infrequent business meetings and live broadcasts, as well as concerts, conferences and media events».

About STEP LOGIC
STEP LOGIC (step.ru) is a member of GKS group of companies (AO Sistematika Group) with 27 years of experience in providing network and system integration services for the Russian market. The company has more than 600 employees with its offices based in Moscow, Kazan, Yerevan and Almaty. The company employs over 350 engineers and system architects certified by the world's leading manufacturers. The company has high-level authorisation with such vendors as APC by Schneider Electric, Avaya, Check Point, Cisco Systems, Crestron, Dell Technologies, Extron, Fortinet, HPE, Huawei, IBM, Juniper Networks, Lenovo, Microsoft, Polycom, Unify and others. The range of solutions and services includes network and systems integration, audio and visual solutions, development of videoconferencing systems and contact centres, integrated security, data processing and storage services, network and engineering infrastructure development for buildings, the Internet of Things, as well as a full range of services for technical support and maintenance of information systems including IT consulting, auditing and outsourcing.
Back to all news