STEP LOGIC has built a network infrastructure and equipped Sber's first new format office with a multimedia system
29 October 2020
What technologies were used to create an innovative office and how did rebranding influence the choice of equipment? We will tell you about it in more detail.
September 28 Sber opened its first new format office on Tsvetnoy Boulevard. STEP LOGIC has built a network infrastructure for the rebranded office and equipped it with a multimedia system.
Solutions standard for a small bank office were used for creating network infrastructure. STEP LOGIC built a structured cable network for 300 ports, a LAN physically divided into two segments in full compliance with the company's requirements and information security regulations, a Wi-Fi network with separate access, protected for the staff and open to the clients.
By contrast, a whole new approach was adopted for a multimedia system. The office was equipped with interactive media surfaces of various formats and dimensions made in the same style.
Next to the entrance, there is a corner LED screen demonstrating the company's corporate content.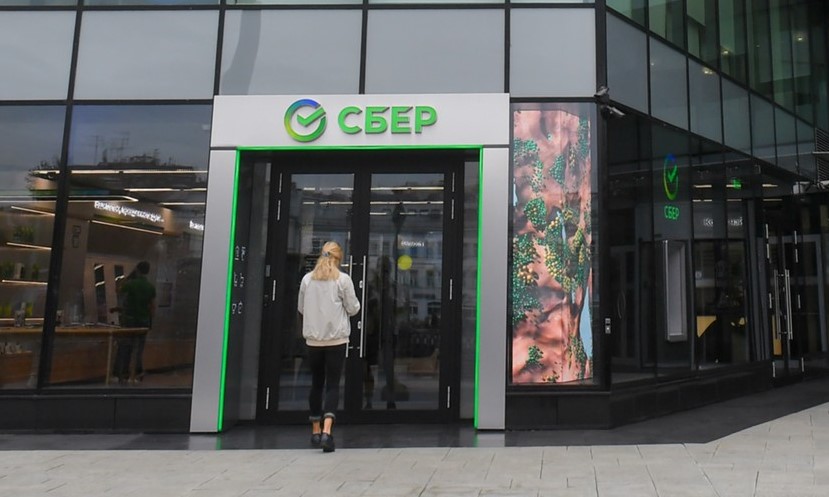 Photos by Sergey Kiselev, Moscow Municipal News Agency

In the centre of the office, there is a curved LED screen with a protector. It can display images of different formats and demonstrate various content simultaneously: presentations, corporate backgrounds, videos and films.
There are three mirror pillars with screens to display the E-queue and foreign exchange rates. Screen matrices are seamlessly integrated into the mirror without any gaps.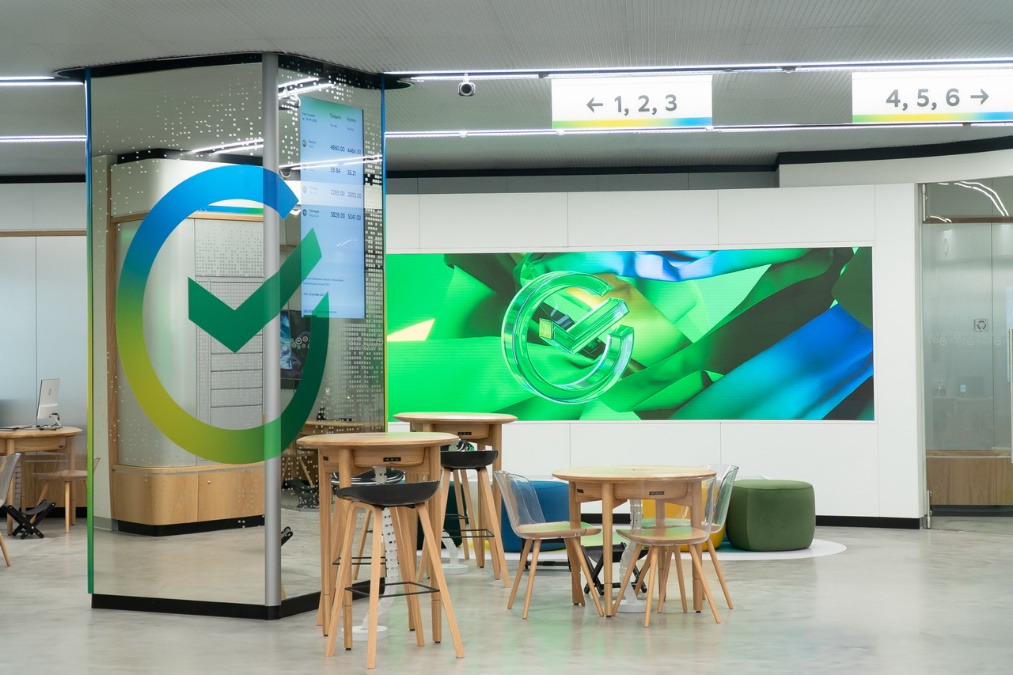 Prepared by the press service of Sber

In the "Salute, Sber" area there is a screen to demonstrate the work of sberdevices: a SberBox multimedia console, a SberPortal multifunctional device, a range of Salute virtual assistants. The screen also displays presentations and image content.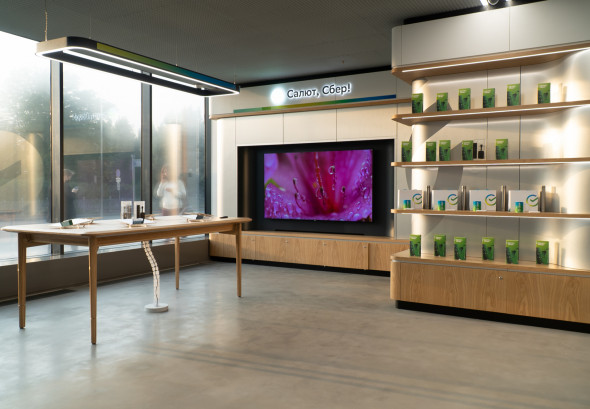 Prepared by the press service of Sber

The meeting room is equipped with a screen and a video conferencing system for long-distance communication with clients and partners.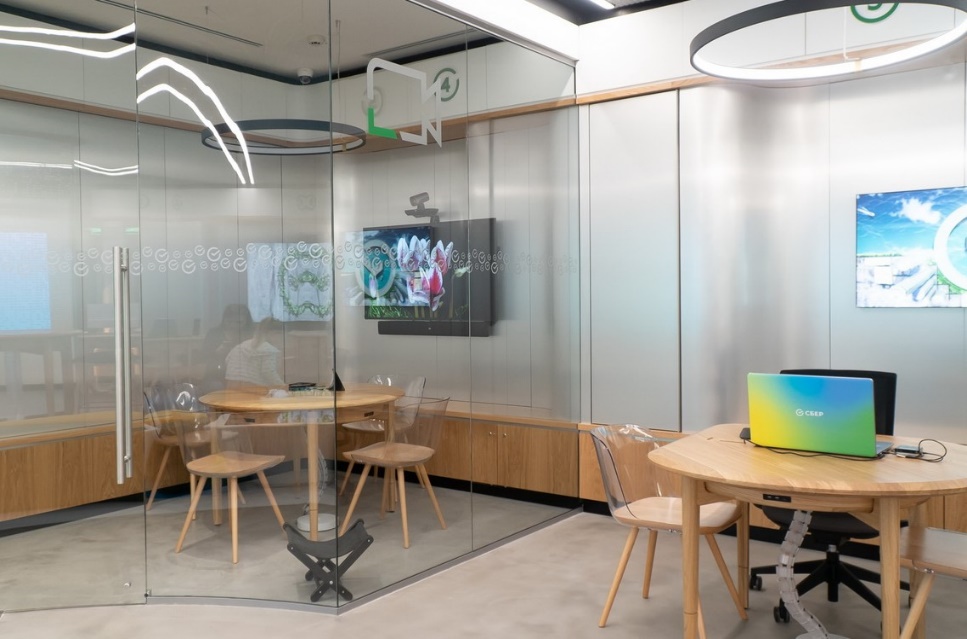 Prepared by the press service of Sber

All media surfaces, ATM and parcel automats screens are connected to an ecosystem based on the Digital Signage technology. The content is displayed and managed in a centralised way with a special panel or iPad.
For the convenience of visitors and to reduce the overall noise level over every ATM that supports biometrics and voice control, a sound shower was installed – a sound system that broadcasts an audio message in a specific place.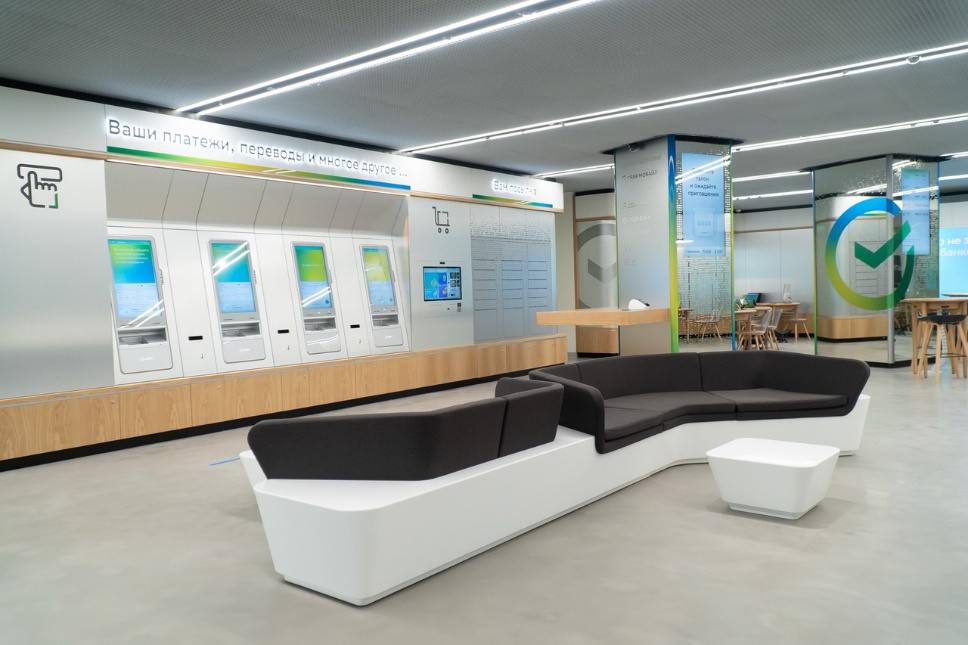 Prepared by the press service of Sber
Back to all news