VDI
Virtual desktop infrastructure simplifies administration and scaling of networks, reduces maintenance costs, and prevents leaks of important information.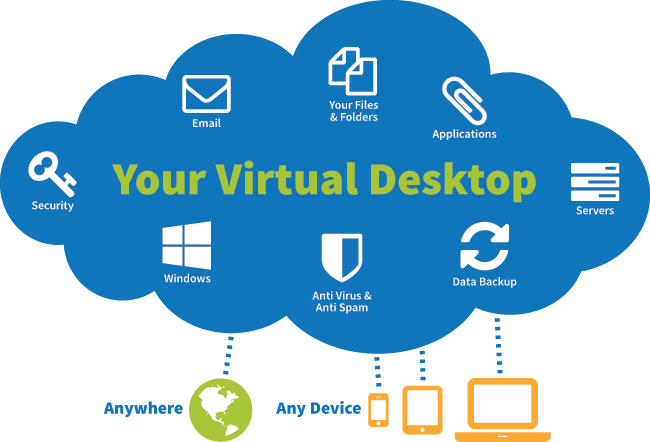 A workplace that is always with you
VDI allows staff to access their desktop and working environment from any terminal, whether it is a computer, a laptop, or a tablet. You no longer need to upgrade the workstation at the office, ensure it's in working order and configured correctly.
VDI offers reliability and security
A virtual desktop can be recovered after a failure within minutes or even seconds. The administrator won't even have to go to the user's location, everything can be done remotely with a click of a button. The desktop will be reassembled form the golden image, and the employee will once again have access to their documents, printers, and other office infrastructure they need for work.
In addition, VDI allows you to hide all sensitive elements of your infrastructure, thus offering improved security for corporate data.
VID means convenience
Administrators can create different sets of virtual workstations for various user groups. New virtual desktops can be created automatically from a template prepared in advanced, with all the necessary software included automatically.
Depending on user needs, a virtual desktop can be a simple virtual typewriter or a powerful workstation for software development or 3D modeling.
Comprehensive approach
STEP LOGIC offers VDI solutions based on products from the best global manufacturers. We help you pin down the needs and tasks of your business, select the technologies you need, deliver the requisite equipment and software, design and deploy the solution, and then ensure its error free operation. Our experts have already created over 10,000 virtual workstations for customers in various sectors of the economy.
Develop a solution